From Nora Miethke
Professor Pinkwart, what prompted you to accept the appointment at TU Dresden?
The TU Dresden is one of the best universities in Germany. I have found it a great honor and motivation to accept the call to the Excellence Professorship for Innovation and Technology Managementt to have received.
What have you resolved to implement in Saxony?
The topics of technology transfer, entrepreneurship and innovation have occupied me for decades. It is a fascinating task for me to take a research-based and practice-oriented look at how new methods, a suitable institutional framework and new forms of cooperation can be used to drive these topics forward.
These issues are also crucial for a successful structural change process in the coalfields of Saxony. Where do you see strengths and weaknesses?
Saxony has the advantage of first-class education compared with the rest of Germany. This is the central lever. Whether technology transfer or innovation: the starting point is education, academic as well as vocational education via vocational academies or dual courses of study. They contribute to the fact that across all occupational groups, a qualitatively very high level of education prevails in Saxony. In addition, there is a willingness and passion to engage with technology and the natural sciences. I find this much more here than at other locations. In-depth knowledge, curiosity and a willingness to tackle new challenges are the prerequisites for recognizing and taking advantage of new opportunities. In the historical context, I see a parallel with North Rhine-Westphalia.
Which?
In the Rhenish mining area, as in Lusatia, there is a proximity to research-strong universities. These were founded in the 19th century to shape the transformation from agriculture to industrial value creation. It was recognized early on that it was worth investing in science, research and technology in order to gain the knowledge and the people who would organize this transformation. Now we are in the midst of the fourth industrial and second informational revolution, and again universities are drivers of this development. By establishing top research facilities in the Lusatian and Central German coalfields, the universities are building a bridge to these regions and continuing the success story. I see a particular strength of Saxony in the combination of hardware and software. This is a unique selling point worldwide.
What do you mean by that specifically?
The TU Dresden is not only strong in digital topics such as 5G and 6G, quantum research and artificial intelligence, but also excellent in materials science, mechanical engineering and robotics, as well as the energy systems of the future, which involve hardware as well as software. Thinking and developing both together opens up a wide range of opportunities to develop new processes and products and to implement them on a large scale, thus creating new jobs.
The planned establishment of two major research centers is a great success. Is basic research suitable for flanking regional structural change, or would application-oriented research not be more promising?
I am firmly convinced that the location of the GFZ is a wise decision. With astrophysics and the chemistry of the future, two outstanding subject areas could be occupied. For example, the aim is to make the largest amounts of data available intelligently and sustainably, to advance the performance of chips through new production processes, and to replace rare raw materials with new chemical processes. At a very early stage, we are looking at how to use fundamental advances in knowledge to develop new technologies and bring them to fruition via spin-offs, start-ups and other collaborations with industry and SMEs. 2038 is a long time in fast-moving times like today. That's when you can take on projects as big as these if you link them from the start with visible docking points such as the development of innovation and startup hubs with new commercial and industrial sites. They signal both to scientists and to those working in opencast mining and their families that something is growing here that will create new jobs in the long term.
What makes you so optimistic?
My experience. I know from Dortmund or Aachen, for example, that more than 30,000 jobs have been created from each of the two universities in the last few decades. These are all high-quality, well-paid jobs, not only for academics, but also for skilled workers.
The Rhenish mining region has an advantage over Lusatia: there are strong university locations around the region in Aachen, Cologne and Bonn.
Dresden is not that far from Lusatia. These distances also exist from the Rhineland to the universities in Aachen, Cologne and Bonn. There is also a lack of roads and railways to link the region more closely with the major centers. Due to the shortage of gas and the politically intended abandonment of nuclear energy, Germany will be more dependent on lignite than initially planned, at least in the medium term. In this way, positive overlap effects will become possible. If we make rapid progress in the next three to five years, we may already have the first spin-offs without large-scale job losses on the other side. During my time as Economics Minister in North Rhine-Westphalia, we had the employment effects for the Rhenish mining region studied in several scenarios. The study clearly shows that, on balance, more jobs are being created than lost.
What could Saxony learn from structural change in the Ruhr region?
In the 1950s, 500,000 people worked for coal in the Ruhr region. These are incomparable figures to those we are talking about today. One thing was very important: the founding of the Ruhr universities in the 1960s. One of them was headed by Kurt Biedenkopf, who later became prime minister of Saxony. And it was he who, after reunification, together with Science Minister Hans Joachim Meyer and Finance Minister Georg Milbradt, did much to expand universities and research institutions in Saxony. In North Rhine-Westphalia this strategy was continued from 2005 to 2010, when it was decided to completely phase out coal mining because it no longer offered an economic future. By 2018, the mines had been closed in stages and four new universities of applied sciences had been established in the Ruhr region using state funds. As a former science minister, I am pleased that all the sites have developed better than planned and that numerous start-ups have already emerged from them.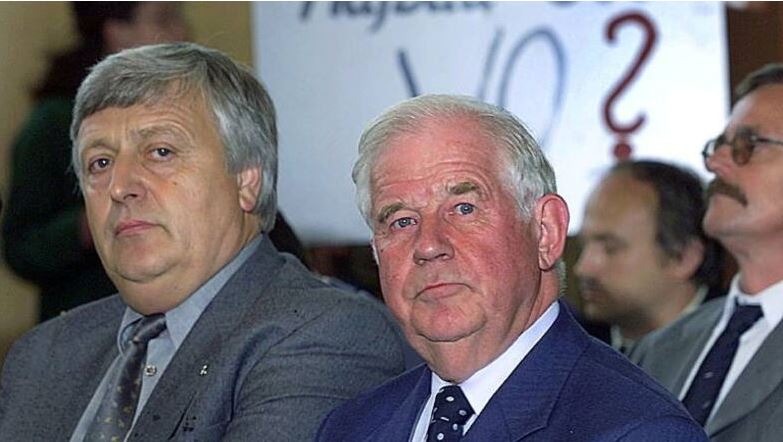 What experiences should you avoid?
The Ruhr region was characterized by large industrial companies, some of which had a hard time with structural change. The large steel barons held on to their operating areas for too long and allowed other industries to develop too late. Partly out of fear that their employees would be poached. What is important is forward-looking land management and good qualification. Adapting the infrastructure quickly, expanding scientific institutions as strong drivers, keeping the education system high - these are the factors that must mesh. And what is still important is very close cooperation between the state's politicians, the mayor, the rector, the chamber presidents and the heads of the business development and technology centers. If they work closely together, it will work.
They did not name a player, the federal government. The construction of a Zuse campus for IT training in Hoyerswerda failed because it was not allowed to receive structural funding. Does the federal government need to make these rules more flexible?
That is a good point. Such a project is also planned in the Rhenish coalfield and there, too, it continues to run up against limits in the regulatory framework. That's unfortunate, because this project is even mentioned in the Coal Commission's report. The coal commission wanted the federal government to accommodate the regions by taking into account the projects mentioned in the report. A pragmatic approach should be taken. The fact that the federal government is promoting structural change with a total volume of 40 billion euros is a big step and certainly not a matter of course. That should be acknowledged. On the other hand, the coal countries and regions are making great efforts to come up with good projects with a sustainable impact. To achieve this, they are undergoing a well-structured but strenuous selection process. The federal government should now also recognize this and try to make its regulations as lean and flexible as possible. There is, after all, the saying, 'He who gives quickly gives twice.' If funding for good projects could be made available as quickly and flexibly as possible, that would be a double contribution to the effectiveness of structural change. Especially since we have projects in all coalfields that Germany and Europe need and will advance.
All regions in Germany are striving to make their regional economy fit for the future through innovation. To this end, the German government has organized various competitions for reallabs, clusters and experimental areas. Do we need special new funding instruments for innovations to give Lusatia a competitive edge?
We must not lose sight of the overall economic situation. It is different than it was two or three years ago. For Lusatia, as for other regions, it is crucial that investments are actually made. This is not done by the state, but by private companies. That's what state funding is for. And there needs to be sufficient equity and debt capital. However, it is precisely in the case of outside capital that it is becoming difficult, because the banks are currently unsettled and therefore very cautious. Bridges could be built here with more attractive guarantees. Of course, this immediately brings the EU Commission's state aid law into play. But we are not alone. There are other coal regions in Europe that are covered by the EU's Just Transition Fund. More generous regulations in state aid law could be created for these regions so that the new start can take shape more quickly. It would also be helpful to speed up planning and approval procedures for all infrastructure development measures, as is now planned for the expansion of renewable energies. Because in the end, people will only be convinced if a factory building is constructed in the planned industrial zones.
Personal details:
Dresden University of Technology (TUD) has appointed Andreas Pinkwart to the newly created professorship of Innovation and Technology Management in the Faculty of Business and Economics as of March 1, as part of its excellence strategy. Pinkwart, 62, has been active in academia since the late 1980s, since 1994 as a professor of business administration and economics, initially at the University of Applied Sciences for Public Administration NRW, since 1998 at the University of Siegen. From 2005 to 2010, the FDP politician was Minister for Innovation, Science, Research and Technology in North Rhine-Westphalia and also Deputy Minister President. During his term of office, the Higher Education Freedom Act introduced. From 2011 to 2017, he assumed the office of rector at the HHL Leipzig. In 2017, he returned to NRW state politics once again, this time as Minister for Economic Affairs, Innovation, Digitalization and Energy.